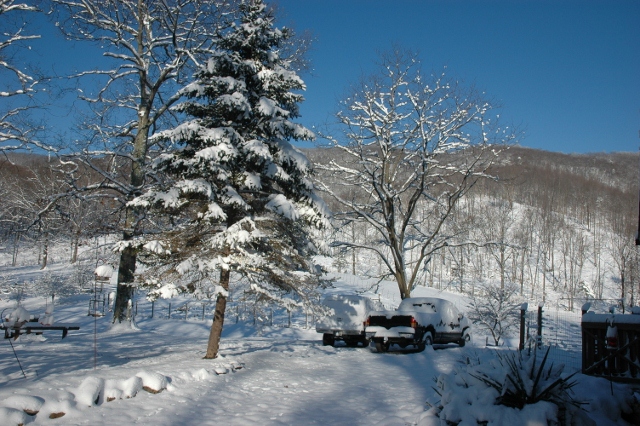 Posted by
John
on February 20, 2012 in
Cub Cadet
|
0 comments
Snow has eluded the country this season, pretty much – until NOW!!
WOOT! We got 8 inches of snow!! I know, it didn't happen without pictures, well here they are!!
Click on any of the pictures below to enlarge.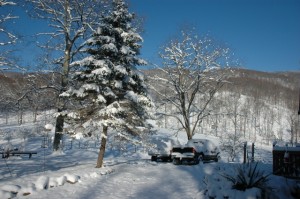 Sunday February 19th it started to snow early, and hard!! The day before it was 60 degrees. By 11 a.m. Sunday the snow was accumulating on the grass.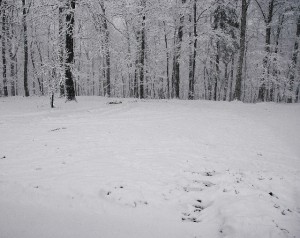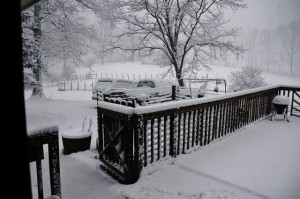 The snow continued until 11p.m.. Monday morning the snow had covered everything. The driveway had cooled off enough to accumulate 4 inches of snow.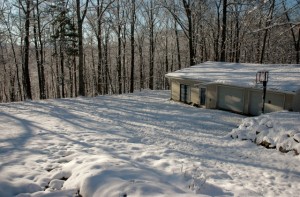 I had acquired a Cub Cadet for exactly this type of storm – not too much, not too little. The Cub Cadet QL1000 was almost the perfect weight to push a 4 foot wide blade. I had updated the tractor with:
a rear axle mount snow blade equipped with a blade angle adjust handle
55 pounds of additional weight bolted to the frame
radial tires for traction
new slightly taller front tires to match the rear tires
To see the QL1000 before the changes click here – http://www.sweetmk.com/2011/10/the-1000-comes-home/
All of these updates to the QL1000 was to make snow removal easier, but, unless it snowed I would not know if I had been successful. Snow removal is important to us because we have a gravel driveway. Left to melt on its own, the moisture will repeatedly freeze/thaw and soften the driveway, leading to ruts and potholes. Plowing the snow minimizes this damage. Well Monday morning I got to try out the QL1000!!
The 48 inch wide rear axle mount blade worked flawlessly!!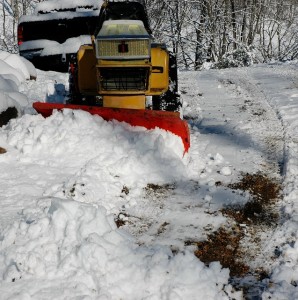 The extra 6 inches of width over the original 42 inch blade allows pushing snow off the road without having to drive in the ditch.
The weight and radial tires allowed the tractor to push snow down hill and up hill without spinning!!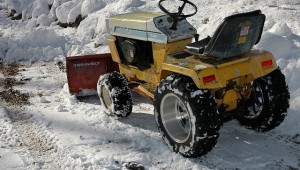 NO chains needed!! The radials have only 7psi pressure so the tractor rides amazingly smooth.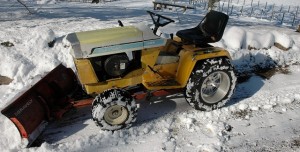 The snow plowing was done in what seemed like a few minutes even though the driveway is a 1/4 mile long. I plowed in high gear of the manual transmission at just above an idle – a very nice speed. The 10HP Kohler engine of the QL1000 runs very smooth at this speed. The tractor used only about a pint of gasoline plowing the entire driveway, this even included a couple side trips to plow around the chicken coop and down to where the horses are fed.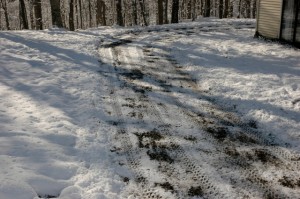 The sun can get to the bare spots and the remaining snow quickly melts. The small amount of moisture quickly evaporates leaving a dry, firm driveway. Success!!
This is one of the perks of living in Virginia. Winter snow we can enjoy without the problems.
Anybody want to buy some land!!??