Posted by
John
on August 6, 2014 in
Gardening
|
0 comments
We purchased a Hobart N-50 mixer over 20 years ago for home use, the machine has been great,  but, it always needed a new paint job. The mixer was purchased used, US Army surplus.
Click on the pictures to enlarge.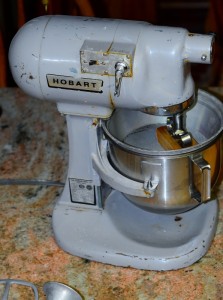 Well, this year for my wife's birthday, I took the Hobart to a local hot rod paint shop. I told them to paint it orange with flames, it came back a week later;
We are very happy with it now!! The flames were hand taped, the green and purple paint were excellent choices by the paint shop.
My wife is very happy with the "new" addition to the kitchen.
Within a week, tomatoes were ready in the garden, so we used the Hobart to make sauce.
After we made the sauce, the next logical step was to make pizza
Here is a video of the N-50 kneading dough;
https://www.youtube.com/watch?v=VYrVQN4uPFk
The pizza and bread from the whole wheat dough was perfect!!