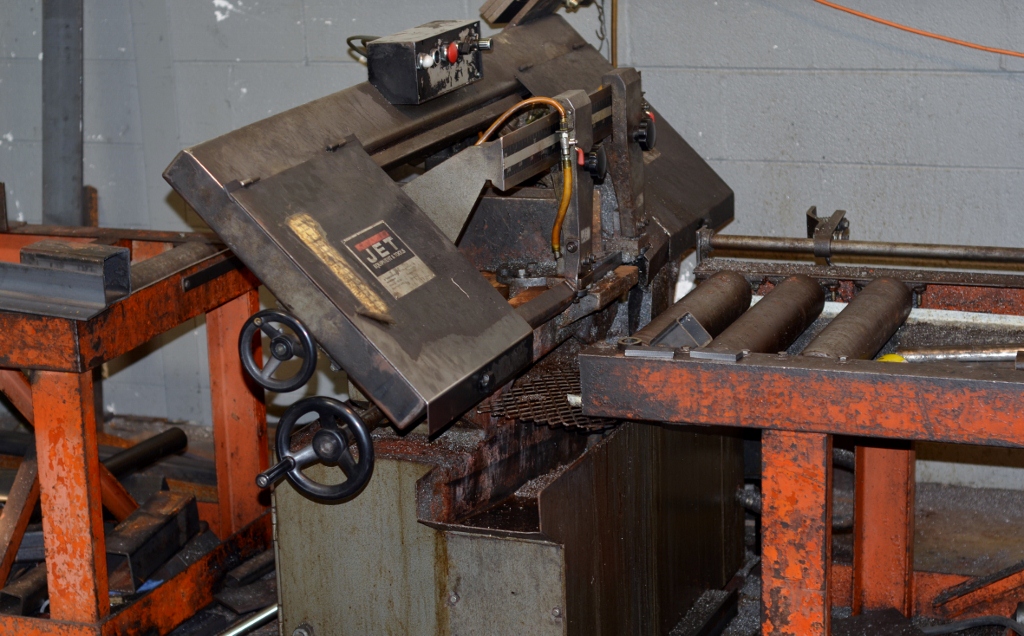 Posted by
John
on October 18, 2011 in
Shop Tools
|
0 comments
Many years ago a friend gave me a very small power hacksaw that used a standard 12 inch blade to cut steel. That saw convinced me a bigger saw was in my future.
I next acquired a 5X9 capacity made in the USA Rockwell band saw. The saw used 1/2″ blades and did not have coolant to protect the blade. Cut speed was slow, but, the saw would cut almost any shape I needed. The saw's capacity limited project size when making angled cuts. I was still looking for a bigger saw.
Next was a 8×12 capacity saw with a 3/4″ blade width. I don't remember the brand, but, it had a fabricated steel frame and no coolant. It had little more capacity than the Rockwell, and took up way too much space. When a friend expressed interest, the saw moved to a new home!!
A weld shop was closing and had a Jet 9X16 saw that used a 1″ wide blade. It had built in coolant and an in-feed roller rack long enough to handle 20 foot lengths of steel. The saw could also use a 5-8 TPI variable pitch blade which allowed the saw to cut many thicknesses of steel without blade changes.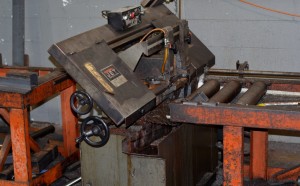 For eleven years the jet 9X16 has been my "go to" saw. If I can clamp it to this saw, the saw will cut it. I even used it to make the beveled cuts to shape the two parts of the splitting wedge on the splitter CADTr Model 6.